Essays: PAHSA Cambodia Short Program
As part of the PAHSA program, the Pannasastra University of Cambodia (PUC) hosted a one-week short-term study program, 7-16 March 2013, on peace and human security with a special focus on health in Cambodia. After the program, students wrote short reports detailing their experiences on the program and summarized their lasting impressions.
Cambodia, a Post Conflict Country: Social Capital and a Modern Health System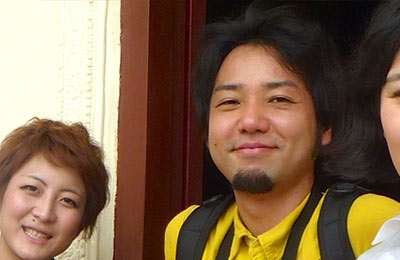 Yu Sato
Nagasaki University
@ Pannasastra University of Cambodia (PUC)
The foremost features of Cambodia's modern-day history are dominated by civil war, genocide and purge. It is said that some 1.7 million people, a quarter of the total population, perished during the Pol Pot regime from 1975 to 1979. The civil war continued after the regime's collapse, and despite the conclusion of the 1991 Paris Peace Agreements, violent conflict between government and rebel forces continued for some years. Finally, peace was realized by the installation of the new regime, the Cambodian People's Party in 1998. So, when we discuss modern Cambodia, it is inevitable that the effects of these incidents such as conflict and genocide are always preeminent in out minds.

While attending PAHSA's short-term study program at Pannasastra University of Cambodia (PUC), the country's turbulent past was a constant shadow while we examined the present-day healthcare situation in the country. In the past, military, not healthcare, was foremost in leaders' minds. Those limited funds that were available were assigned to the army and the health system was given scant regard. This situation barely improved even with the cessation of conflict and healthcare remained a poor cousin to national defense. But in 2003 the situation changed. The Cambodian government set up the Health Strategic Plan 2003-2007 as a national strategy and this began to focus more attention on health issues. Building on this initiative, the Health Strategic Plan 2008-2015, continued where the earlier plan had left off. These initiatives were bolstered by the work of NGOs in the country. Various non-government organizations set up immunization programs as well as basic healthcare programs and these efforts were coordinated with local partners.

Notwithstanding the improvement in the provision of healthcare that has taken place, there is still much to do in the country. And the nagging question still remains: 'How might the government change the situation in regards to healthcare and look beyond what has up to now been the relatively short-term?' To address this point, Cambodia's future will have to be considered with due regard given to social capital, and specifically in this case, the general public.

Social capital is a sociological term but is used in a wide array of disciplines, including economics and epidemiology (the study of the patterns, causes, and effects of health and disease conditions in defined populations). Certain aspects of the definition of social capital differ slightly from researcher to researcher. According to Putnam (1993), social capital refers to "features of a social organization, such as trust, norms, and networks that can improve the efficiency of society by facilitating coordinating actions." In other words, in a society with sound social relationships, people might enjoy various mutual benefits from the relationships between people and society if the relationship is good. This is not necessarily the case in Cambodia. At times of civil war, genocide or unstable government, when people might feel discontented, this mood might result in low trust and shallow networks, and thus affect social capital negatively. One of the staff members of an international NGOs said, "Usually, Cambodians appear to be friendly with each other, but they do not tend to share the information which has much benefit for others." They continued, "Village volunteers have been inactive because the monetary incentive is insufficient." These comments might indicate how the relationships in society have been impacted by Cambodia's turbulent history.

In today's Cambodia, societal links bear the scars of the long years of conflict. In times of strife, a degree of skepticism and mistrust is a boon to survival. Yet in peacetime, that same attitude may hamper progress. Therefore it is up to the government to tackle this head-on. In order to implement policies, to improve health indicators in the longer-term, there needs to be a top-down approach from the government in order to win back confidence and build the trust of the public. And by in so doing, the building blocks will be laid to foster social capital.

This hypothesis is not based on any empirical evidence that is at hand, but on the ground one instinctively feels that Cambodia's history and its current situation as a post conflict country affects the Cambodian character, especially in terms of social capital. And to date, bottom-up approaches such as the Community Participant Programs have not been wholly successful. Trust, or networks in the community, the fostering of social capital, are natural resources, and ones that are needed to bring benefits to all people.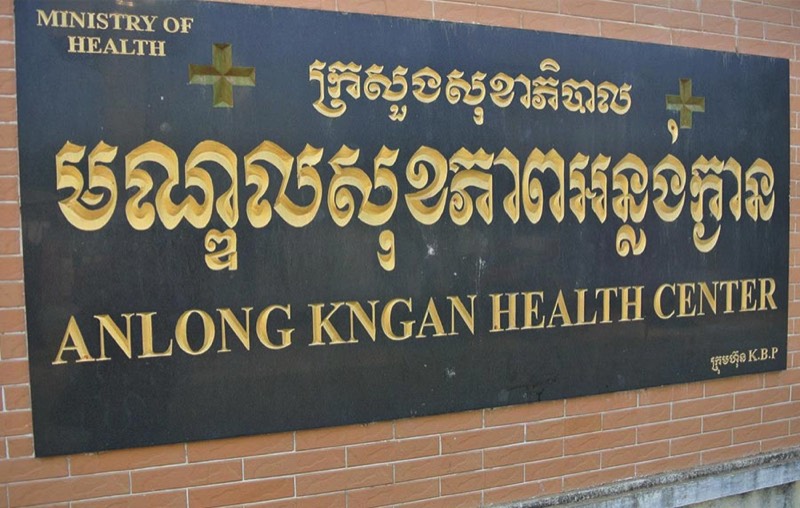 Alongkangan Health Center located in north western part of Phnon Penh
On the Development Track: Cambodia's Health Issues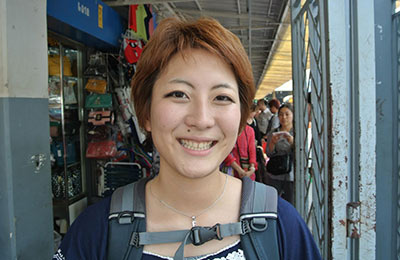 Fumika Hashiba
Graduate School of International Health Development
Nagasaki University
@ Pannasastra University of Cambodia (PUC)
As a Nagasaki master degree student studying public health, I was excited to join the PAHSA short-term program that took place at Cambodia's Pannasastra University (PUC) from 7-16 March 2013. The focus of the program was peace and human security and there was a special emphasis on the unique health issues that are to be found in Cambodia.

Arriving in Cambodia, I was surprised to find an energetic and dynamic Phnom Penh. Yet there are obvious disparities. One can see luxury cars, international hotels and modern condominiums, yet these are juxtaposed with slum areas, poverty and obvious hardship. Having spent some eight months in Ethiopia doing my internship and field research the previous year, I was not sure what to expect as both are known as developing countries. But it only took a cursory glance to realize that Cambodia and Ethiopia are on quite different development tracks.

On the short program at PUC, we learned about human security, peace building, government policy, the country's history and health system. At first Cambodia's complex history was somewhat challenging to grasp. However, after visiting Tuol Sleng Genocide Museum housed in the former high school that became the notorious Security Prison 21 (S-21), I started to comprehend how the turbulent history touched the lives of all Cambodians. While later discussing the visit with Cambodian students, it dawned on me that only by knowing about history – the good, the bad, the ugly – are we able to comprehend the current situation and also to foresee any problems that Cambodia may face as it moves forward.

In terms of human security and peace building, these subjects were very new for me, yet both health and peace building are components of human security and all are closely related.

Over the past 20 years, Cambodia has put much effort in improving maternal and neonatal health and the country has already achieved many of the targets set by the Millennium Development Goal 5 (MDG 5). There were two broad targets for MDG 5, Target 5.A. is a reduction by three quarters between 1990 and 2015 in the maternal mortality ratio, and Target 5.B. calls for universal access to reproductive health by 2015. Cambodia's performance in achieving these targets appears to have been met in advance and this is highly commendable for a low-income country. Many other developing countries are still struggling to achieve MDG 5, and perhaps they can draw some lessons from Cambodia's efforts. On a visit to a village health center in rural Cambodia, I had the opportunity to see the strides being made to improve healthcare at the grassroots. In its efforts to improve healthcare, building relations at the community level has been key to Cambodia's success in achieving MDG 5.

Last year, I had the chance to interview health volunteers in Ethiopia in order to find out what factors contributed to motivate them in their efforts. They answered, "respect from others," "gratitude" and "sharing beneficial knowledge." Yet these answers seemed a little superficial somehow. Spending a few minutes conducting an interview was not long enough to get to the heart of the deeper issues. It was obvious that a certain amount of time together and building trust is needed if one is to truly understand how people feel. In Cambodia, the same might be said in regards to its rural healthcare provision.

The village health support groups play an important role in the implementation of the community participation policy for health. There is a team of volunteers that provides critical help for pregnant women and newborns. The volunteers have the necessary knowledge and skills to counsel women during pregnancy and in the postnatal period. Volunteers from these groups provide an invaluable bridge between the community and the centralized health system. Yet this system does not always work as effectively as it might. The budget for training is tight and incentives for the volunteers are not even clear. There might also be a lack of understanding as to what factors contribute to motivate VHSG members. A deeper understanding of the community's backgrounds and needs might be necessary if improvements in health provision at the local level are to continue.

The short program at PUC provided me with a broad perspective in understanding Cambodia's transition and development in its healthcare system. The country is distancing itself from the past turbulence, but while considering peace building, it should not be forgotten that this also encompasses health. Improving the health of the people and implementing effective policies for all to have a better life is pivotal if the country is to continue moving forward on its development track.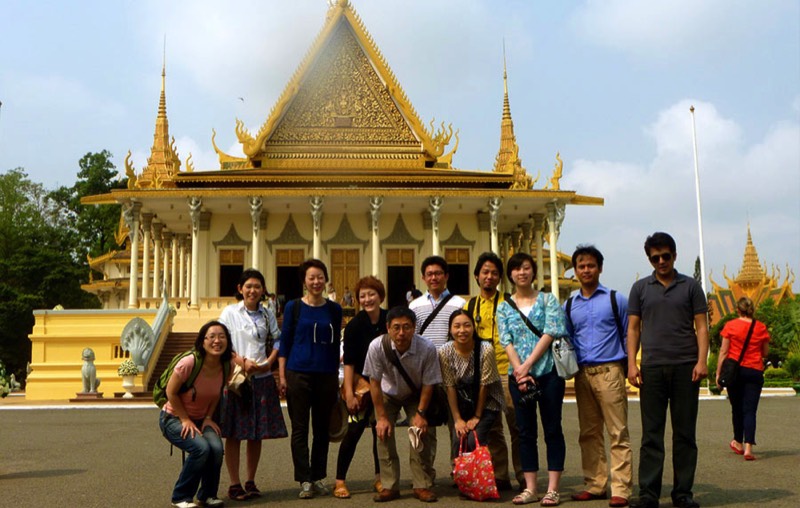 PAHSA Students from Japan (Professor Matsuno, center), pictured at the Royal Palace, Phnom Penh.