Essays: PAHSA Semester Program Japan
Upon completion of the PAHSA Semester Program, students from Southeast Asia universities wrote short reports reflecting upon their study as exchange students at one of the four PAHSA consortium universities in Japan. In the reports they detail their study experiences, the cultural differences while living away from home, and how they might benefit from the experience of the PAHSA program in the long-term. Please note that some of the reports have been edited and slightly modified.
Okinawa: Experiencing Kindness, Hospitality and Honesty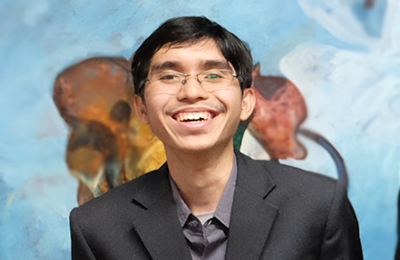 By Ricardo Teehankee
De La Salle University, the Philippines
@ Meio University, Okinawa
I was very fortunate to be one of the Filipinos chosen to participate in the PAHSA program in Japan. I was assigned to Meio University, located in the small city of Nago in Okinawa, part of Japan's southernmost island chain. Okinawa has a distinctive cultural heritage that is quite different in some ways from mainland Japanese culture. Because of its more southerly location, the climate is subtropical and hotter than the rest of Japan's, although the winters are still quite cold by Filipino standards. I stayed there for five months, from September 2015 to February 2016. It was a valuable experience.

I had a dormitory room at the university's International Student Center. The other students were from countries from all over the world, such as Senegal, Thailand, China, Taiwan, Korea, Brazil, and Peru. There were also Japanese students staying at the dorm, to befriend and assist the exchange students.

My placement at Meio enabled me to experience the beauty of both Okinawa's own distinct culture and Japanese culture in general. The international students from Latin America were nikkeijin, descendants of Okinawan immigrants, and they had come to Okinawa to reconnect with their roots, a connection that persisted despite the separation of thousands of miles of distance and several generations of time. In October, there was a Meio Festival on campus. Aside from the normal things you would expect from a Japanese school festival, such as food booths and the "haunted house", there was also a performance of eisaa, the Okinawan folk dance that still remains popular on the islands to this day.

In my classes there, I learned more about Japanese history, culture, religion, government, family structure, and the educational system. I also learned how English language education at the college level is done through sitting in English classes. In addition, I did some studying of the Japanese language, and was able to pass the JLPT test held in December at the N5 level. I am so grateful to the professors at Meio, as well as the staff of the International Center, who not only taught me things in the classroom, but helped me get around and survive in a country where I didn't speak the language.

They also taught me more about Okinawa's heritage. Thanks to them, I was able to tour Shuri Castle. They also showed me around the northern half of Okinawa Island, which is for the most part a well-preserved wilderness. I was also able to learn more about Okinawa's unique circumstances, in the sense of Okinawa being the location of several American military bases.

One experience that I am glad to have had was the opportunity to speak to fifth and sixth grade elementary school students at three schools in and around Nago about my country. Although I am not the best public speaker, I was glad to have been given the opportunity to do this. I think it's a good idea for all exchange students to do something like this. It would help promote greater understanding of and appreciation for other countries.

For my final presentation, I and the other PAHSA participants went to Osaka to present. Chilly Osaka in late winter, a massive city, was a different experience from Okinawa. Thanks again to my professors, I was able to tour Osaka Castle and meet up with my Filipino friends.

Japan has always been a country that holds a special place in my heart. Japan's cultural, economic, and scientific accomplishments are extremely impressive. In Japan, I experienced firsthand the kindness, hospitality, and honesty of the Japanese people. I am very thankful for the help and generosity that everyone showed me. I'm very happy that I made many foreign friends, both Japanese and non-Japanese, during my stay in Japan. I am thankful for having had the opportunity to participate in this program.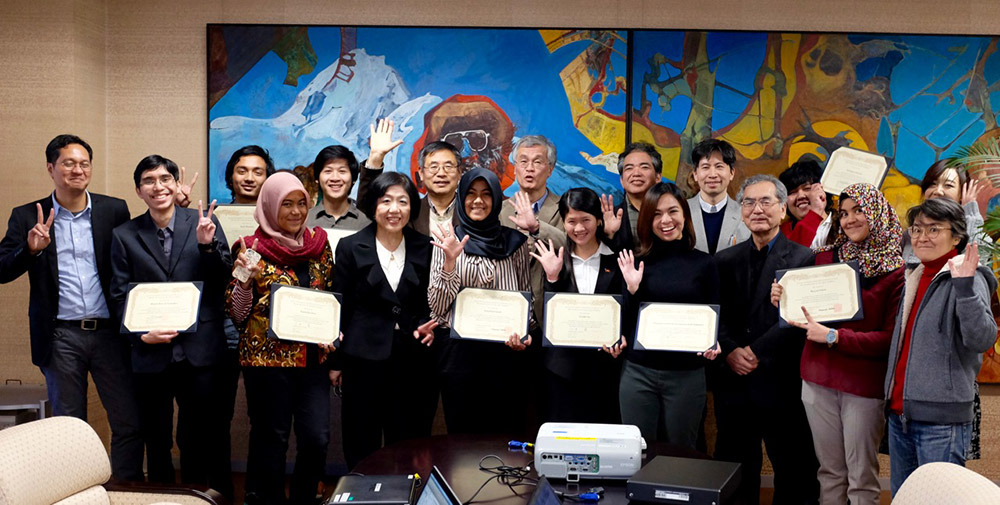 Fellow PAHSA students and professors on the trip to Osaka for the end of semester presentations, 5 February 2016.
From Hanami to Hanabi— My Semester Life at OSIPP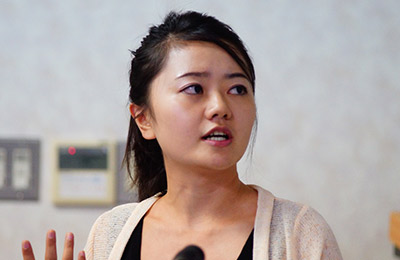 By Xue Gong
Nanyang Technological University, Singapore
@ OSIPP, Osaka University
Finding Understanding as a Global Citizen
When I first arrived at Osaka University, the cherry blossom through the campus greeted me. During my last month in Osaka, the fireworks in the sky amazed me. If you ever see cherry blossom or fireworks in Japan, you will never forget the fleeting beauty of nature. My life in Osaka University is like the cherry blossom and fireworks, short but magnificent.

It is not my first time participating on a PAHSA program. Two years ago, I had the fortune to visit Hiroshima as a short-term exchange student. The hospitality and well-designed courses enabled me to find out more about Japan's peace and human security development causes. Since then, I began to pay heed to the development of PAHSA.
Immersive Story: Day-by-day, by Southeast Asia students on the PAHSA Hiroshima Short Program
Unfortunately, due to personal reasons I was unable to travel to OSIPP, from NTU in Singapore, for the semester exchange program in September 2014. In overcoming difficulties, I wish to thank Professor Haruko Satoh and Ms. Yoko Kawano for their patience and encouragement, and their assistance in my application. Without their understanding and unconditional support, my trip to Osaka would never have come about.

Although the PAHSA Semester Program offers the opportunity for students from Southeast Asia to understand the concepts of peace and human security, you are free to select courses based on your own interests. At the end of this program now that I look back, it was clearly a most productive stay. The opportunity to study in Japan enabled me to take courses in the public policy areas that my own graduate school in Singapore does not provide. OSIPP is always supportive of student needs and it was especially so when it came to my selected courses.

Two specific course highlights were United Nations Career Workshop and World Immigration Economy. These were both relevant to my own research back at RSIS, and additionally, there were things that I learned that would be of much use in my future career. In the UN Career workshop, a group of experts and educators rotated to give lectures and seminars. Professor Tsuruga, for example, shared his own research and personal expertise with us in the ways of career planning and management at the United Nation. After his explanation, we were asked to put together clear and consistent career plans for different time periods. He broadened my perspective of career planning; generally my peers and I usually plan in the relative short-term rather than have a consistent strategy for the rest of our lives. In addition, he provided learning materials that directed us to simulate case studies and discussions.

Another rewarding session was the group presentation covering project proposals for the Japanese government for funding support. After analyzing the project management skills and decision-making, the lecturer offered up enough background information so we could cooperate and communicate on human trafficking issues in Myanmar. I had never worked with the Japanese before, so I learned a lot of interpersonal and communication skills as well culture awareness from this group project. The other course that I took is more academic but also more relevant to reality, especially to Singapore as an immigration country. Professor Nomura offered us autonomy in choosing topics for presentation and I made a presentation on Singapore's labor immigration and the impact on the economy and politics of Singapore. Through this, we had a very insightful discussion by comparing Japan and Singapore government policies in housing, healthcare and immigration regulations, etc. These kind of courses not only provided knowledge from the book but also offered practical opportunities, things that are very useful for future purposes.

Beyond the academic side of the program, there were valuable and meaningful exchanges as new friendships blossomed during my stay. On a personal level, I had the chance of interacting with Japanese professors and students. This is more interesting for me in the face of the frozen Sino-Japan relations; better understanding and respect for each other is always good. And in short, I believe this is the gist of PAHSA program, to build a more understanding and peaceful world through personal interactions and exchanges.

The debt of gratitude that I owe to PAHSA funders and organizers is immeasurable, especially Professor Haruko Satoh for her continuous support, Professor Akihisa Matsuno for his supervision and guidance, Ms. Yoko Kawano for her patient assistance and Mr. Nick for carrying my super heavy luggage while climbing the hills. Also, as a recipient of a JASSO scholarship, I wish to thank the Japanese government for supporting the international education in human development and peace studies. Without its support, my life in Osaka would not have been as beautiful as hanami and hanabi.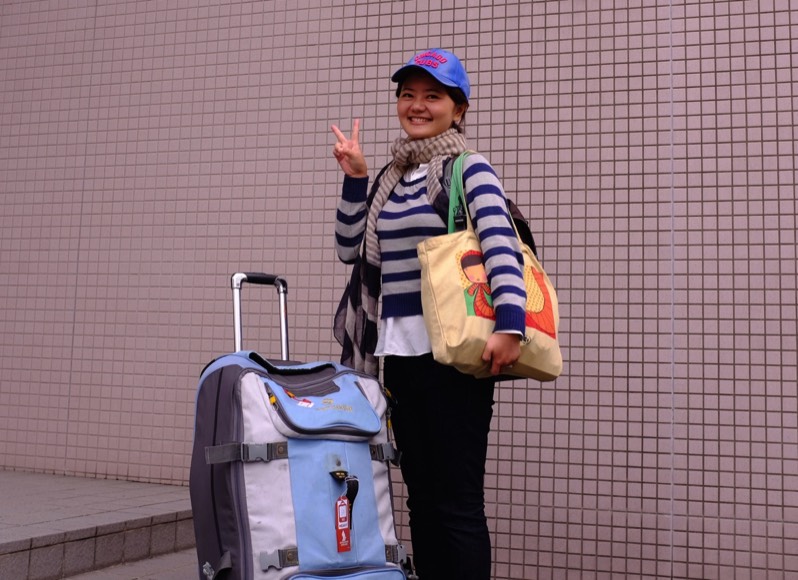 Arriving: the first day at OSIPP, Osaka University
Gaining Better Understanding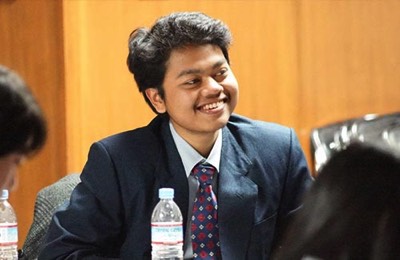 By Reza Juanda
Syiah Kuala University
@ School of Law, Osaka University
Being an exchange student as part of the Japan University Consortium for Peace and Human Security in Asia (JUC-PAHSA) was truly eye-opening. I spent one semester studying at the School of Law, Osaka University, alongside other students from Southeast Asia who came to Japan to study at one of the four PAHSA consortium universities. Six-month in Japan was a very real learning process for me. Living away from home for the first time, interacting with international students, and adapting to cultural differences and campus life; all of these brought new challenges and experiences.

My time in Japan was all positive. Osaka University had great facilities to support both academic and non-academic activities. Undertaking research was straightforward as the university subscribed to numerous academic databases where specialised scholarly works could easily be sourced and the library was comprehensively stocked.

The courses taught at Osaka University were well organised and wide-ranging. Students could choose the ones that suited their needs. The teaching methods were engaging and everyone participated actively in the classroom. In those lectures that I attended, the professors were open and supportive, and a wide array of activities took place. Besides the subjects that I took, I also attended a number of special guest lectures and seminars. The guest speakers came from a range of backgrounds; from overseas universities, diplomats and politicians, and leading academic thinkers. They shared their experience in dealing directly with complex global issues and everyone who attended these events could not fail but take away precious lessons.

Apart from the academic side of things, students at Osaka University have a wide choice of extracurricular activities. Some of the things I particularly enjoyed were school visits, university festivals, host family events and the photography club. These things were really important for a foreign exchange student as they offered the chance to socialise with Japanese and overseas students in informal and supportive settings. In addition to these, away from the campus I participated actively in many events managed by the Indonesia Students' Association. Some of the most enjoyable were Indonesian traditional music performances. Here we were able to share something from our own culture at the university-organised and public events.

During my time in Japan, I travelled as much as possible, particularly in the Kansai region which has the wonderful cities of Osaka, Kobe and Kyoto. My favourite was Kyoto, an ancient Japanese capital with shrines, gardens and architecture which are often well-preserved. The calm and beauty of the city is enchanting, and I thoroughly enjoyed discovering the temples and shrines surrounded by sublime gardens.

Participating on the PAHSA program left a deep impression on me. The learning process during my time in Japan was a priceless opportunity. It helped me to gain better understanding as a global citizen and the issues that will need to be overcome to ensure a better world. I would like to express my appreciation to everyone who made my time in Japan possible. And to my comrades, the PAHSA students, thank you for everything I learned from you. I hope we can get together again in the future!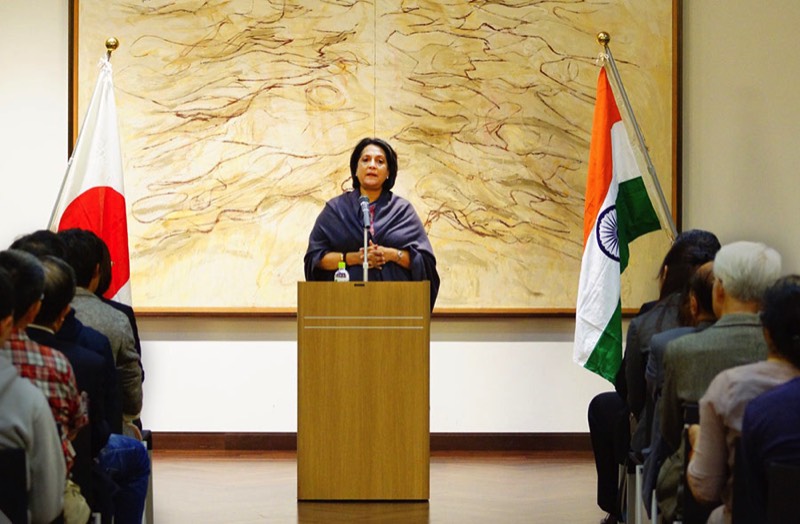 Indian Ambassador to Japan, Smt. Deepa Gopalan Wadhwa. A guest at one of the special lectures at Osaka University
Student Life in Aceh Could Not Be More Different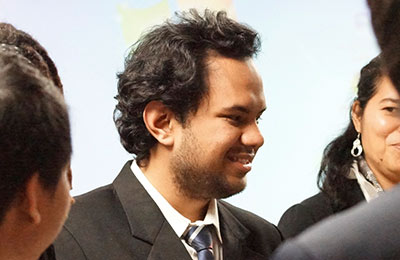 Muhammad Tajhok Meugat Indra
Syiah Kuala University
@ OSIPP, Osaka University
From September 2013 to March 2014, I feel so lucky to have had the chance to study at OSIPP, Osaka University, for a semester on the PAHSA program. Although I had no idea before traveling to Japan, my time there was to be all about new experiences. First of all, there were the new friends and the knowledge that they shared. Second, I gained the experience of living abroad and exploring a new culture first-hand. And third, I met many professors who were active in the human security field during this program. All of these things were deeply stimulating and the program was to inspire me in so many different ways.

Living independently in Japan and learning how to manage as a foreign student was a massive personal change for me. Student life at Syiah Kuala University, Aceh, Indonesia, could not have been more different. Osaka is a megacity; Banda Aceh is not. Things that I do not think twice about at home are not so simple in Japan. I was not alone however; all of the students from Southeast Asia had to face new challenges. Of course, as a student we might expect to be challenged academically, but living abroad in a different culture for a semester brought other challenges and sometimes those had not been obvious from afar. In Indonesia we would hardly walk anywhere, just around our campus or office. But when I arrived at Osaka I found that great distances had to be covered on foot, even by senior citizens. Besides walking, cyclists are everywhere; the Japanese see the bicycle as essential transport. There were also other big differences in food and lifestyle, and again, coming from a different culture, it would be necessary to think about how I should adjust to these things.

On the academic side, I would devote many days to reading and note-taking, research in order to finishing off my thesis. In this pursuit, Osaka University Library was an oasis. The book collection is impressive and the environment conducive for study. PAHSA students could regularly meet with professors, and consult personally via e-mails or tutorials. This level of support from faculty members was impressive and helped to open my mind.

Despite busying myself with study and research, I really missed my friends and family in Indonesia. Yet I got to know the Indonesian community in Japan and met countrymen studying as Osaka University. It was comforting to share our experiences, be those that were culinary (Japanese and Indonesian foods are so different!), or coping with the climatic differences between tropical Aceh and a temperate Japan heading into winter.

Throughout my time in Japan I also learned a lot about Japanese culture and how the societal and ethical considerations are so different to those of my homeland. So much of the lifestyle in Japan juxtaposes with the image of the country that is often in the minds of outsiders. In Southeast Asia, Japan is seen as a country in the modern era with sophisticated technologies and a contemporary lifestyle. Yet when there and living with its people, it is soon clear that so much of the culture and traditions from the past are still just as strong today. I saw this for myself while making excursions from the city. To refresh after exams or at the weekends, I enjoyed traveling to neighboring prefectures to learn more about this. Japan for me was all about new experiences and broadening my mind; so thank you Japan, I learned a lot from you.

Arigatou Gozaimasu!


Semester students in Japan pose for photos after their end of course presentations at OSIPP, Osaka University, March 2014.
Education: a Key Bridge that brings People to People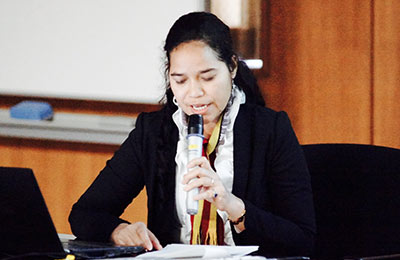 Liliana Amaral
National University of East Timor
@ OSIPP, Osaka University
My six months in Japan studying on the PAHSA Semester Program at OSIPP, Osaka University, turned out to be incredibly illuminating. Beforehand I had no idea that my own history, experience from a post-conflict society, would play such a central role in directing my journey. In Timor-Leste, my homeland, nothing has been easy and independence has not been simple. Burdened by past tragedy, once declared as a new country in 2002, getting on with life has not been straightforward; there are many issues still to resolve. Reconciliation is part of the main component of Peacebuilding. This permeates into many sectors such as education, society and its structure, political life, the economy and in many cultural aspects also. Therefore, during my studies I took every opportunity to understand reconciliation, and to find out all I could about other cultures, educational backgrounds and histories, and the way experience is shared for the betterment of the attitudes and behavior of those in post conflict societies.

Some observations from my time in Japan
To learn about the stages of peacebuilding in the reconciliation process, during seminars and lectures at OSIPP, there were many case studies including Cambodia, the Philippines, Aceh (Indonesia) and East Timor. On a broader stage, Japan, China and Korea, Northern Ireland, Palestine, the former Yugoslavia, Turkey and Egypt were all areas that were examined during special seminars and with guest lecturers. Reconciliation was a key theme in many of these lectures. The reconciliation process is about dealing with the past, and educating people in ways of recovery and healing and then encouraging people to take charge of their own future. In addition to the reconciliation model, the program also looked at human rights in broader terms too, such as good governance to promote and enhance the democratic system. Other tools were shared on conflict analyses through a number of historical case studies on reconciliation processes. There were many other areas of study, these included: transitional justice in the Middle East; mapping relationships; power sharing; the relationship between state and civil society; a rights-based approach to promote peace building; the dimension of conflict transformation approaches; media approaches; engagement and contribution towards peace and civic education in Asia; enhancing collaboration in Asia; and learning about the European approach in terms of promoting human security; and, enhancing the types of collaboration between the Asia Pacific region and Europe. The list of topics was broad and every one was useful.
Some observations from my time in Japan
Education is a key bridge that brings people to people, groups and communities, and ultimately, a whole nation together. Sharing what we know and learning from the experience of others, be that in terms of conflict or context analysis, history, or economic and political issues, are all-important in building peace as the door is firmly closed on conflict. I came to understand this first-hand while in Japan where I learned how education is the fundamental tool that might bring change to institutions and equip their personnel with the tools to shape them effectively. With sound institutions in place, it becomes easier to generate sustainable livelihoods for successive generations benefiting everyone.

I would wish to extend my gratitude to all those who created, administered, and financially supported the JUC-PAHSA program and also those members of OSIPP from whom I leaned so much. I would also like to thank the Japanese people for being such generous and welcoming hosts during my time in Japan. - See more at: http://peace-hs.osipp.osaka-u.ac.jp/PAHSA_writing_semester_JAPAN.html#sthash.NB2qW0Ir.dpuf
Developing My Research at IDEC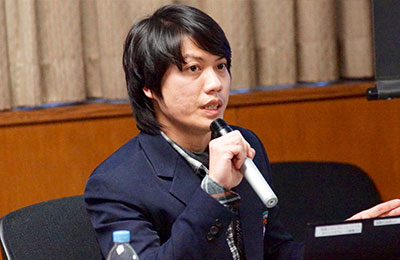 Wasan Pounpunwong
Chiang Mai University
@ IDEC, Hiroshima University
Initially, I would like to thank the Japan University Consortium for Peace and Human Security in Asia (JUC-PAHSA) for giving me the chance to study at a university in Japan for six months. I chose to study at the Graduate School for International Development and Cooperation (IDEC), Hiroshima University. The opportunity to join the PAHSA project is very important in that it supports students in gaining knowledge, understanding, and to recognize the importance of peace building and human security issues in Asia. During classes I learned a great deal about peacebuilding. And with my new friends, fellow students, they too enriched my understanding of the issues of peace and human security; there were many debates on these concepts. Studying for a semester at IDEC enriched my knowledge and provided an arena to share my experiences with others.

As my own research is in the area of human security, specifically, social change among farming communities in Myanmar, this was why I was initially interested in this project. Once at IDEC, as a PAHSA student, I was able to development my research in a supportive environment. This was also true at Osaka University where I became part of a network of students who could also offer support. On an exchange program such as this, the importance of the sharing of experience and the networking that takes place between students from different parts of the world cannot be over emphasized.

While studying at Hiroshima University I enrolled on the following courses: Development Policy; International Legal and Political Systems; Seminar on Peace and Co-Existence; and, Regional Cooperation. The style of teaching was quite interactive and professors encouraged discussion and an exchange of opinions among students in the lecture room. Many of the courses focused on the areas of peacebuilding as well as the concepts and technical issues of those more broadly surrounding peace. The knowledge gained in the lectures was stimulating, and for my research, very useful also.

In terms of practical support, accommodation, and with help settling in Japan, I would like to thank teachers and staff at Hiroshima University for their tireless help. Moreover, The University has a beautiful campus set in wonderful countryside. It offers a calming environment to study and yet is also modern with tiptop facilities. I would also like to thank the Japan University Consortium for Peace and Human Security in Asia (JUC-PAHSA) that supported all the expenses during the six-month stay in Japan.

Finally, once cannot live for six months in another country without becoming part of that society. For me, it is this lasting impression of Japan that is the most positive. The Japanese people are very kind, polite, and extremely welcoming. There was much to learn about Japanese culture, language and the way of life, and every step of the way, the Japanese people guided me graciously. And as a backdrop to this, the beauty of Japan, especially in the fall semester at Hiroshima, is like an ever-changing canvas, truly stunning and it left me very impressed. If I have a chance to go back to Japan again I will not think twice. Thanks JUC-PAHSA.
Set Aside Our Differences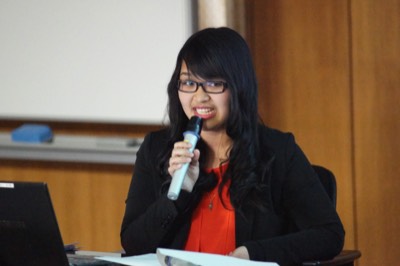 Kristine Alma C. Cambay
De La Salle University
@ OSIPP, Osaka University
If asked how I would describe my six-month stay in Osaka, only one word would immediately pop into my mind: fulfilling. This program marks my third time in Japan, but that does not mean that this stay was any less meaningful than the previous ones. In fact, the Campus Asia Program provided me with more learning opportunities that deepened my understanding and knowledge of Japan – the culture, lifestyle, people – and the world. Specifically, the program became a means for me to experience Japanese university life, create my own network of friends from different countries from all over the world, participate in both a school visit and host family programs, undergo an intensive yet incredibly satisfying internship program at a Japanese high school, be a guest on a live radio show, study about Japanese language and culture, and most importantly, learn the importance of peace and human security as applied in everyday life.

When I was still an undergraduate I always wanted to study at a Japanese university, unfortunately I did not have the opportunity to do so. Thanks to the PAHSA program, and the International Studies Department of De La Salle University (DLSU), I was able to actualize my long-awaited dream of studying abroad. As a Japan Studies major, Japan was first on my list of countries for student exchange. Out of the four Japanese universities that selected students could choose from, without second thought, I chose Osaka University. I went to Osaka four years ago for a two-week host family program and fell in love with the city. Since then I always wanted to go back.

Osaka University and De La Salle University are long-time partners, but the focus of this partnership is, oftentimes, geared towards the hard sciences and engineering. The Peace and Human Security in Asia (PAHSA) Campus Asia Program is definitely one of those unique programs that is breaking new ground, establishing deeply-rooted ties not just between universities but also between countries. Including five Southeast Asian countries: the Philippines, Cambodia, Thailand, Indonesia and East Timor, the program engages students from different cultures with varying personalities, encouraging them to share their knowledge and experiences in simple activities like classroom discussions, seminars and even small social gatherings.

For the entire semester, I took three classes under two brilliant OSIPP professors: Prof. Akihisa Matsuno (Peacebuilding) and Prof. Hiro Lee (Regional Integration and International Trade Policy). The courses offered in OSIPP are very different from what I had taken before. Peacebuilding, for one, is new to me. Of course, we also had discussions on conflict and peacebuilding in DLSU but it was not as detailed and as focused as it is in OSIPP. Moreover, I have always felt that each time I attend class in Japan, I was attending some sort of international seminar (or a United Nations convention, that is) because the students were from all parts of the world, which further enriched the discussions of the different issues being tackled as there were more perspectives and, sometimes, personal experiences shared.

Aside from the academic side, the extra-curricular activities I participated in provided me with an experience like no other. During school visit programs sponsored by Osaka University, I was able to share my culture - a small piece of myself - to Japanese elementary and high school students. In turn, I learned more about the Japanese educational system, language, lifestyle, culture, behavior, and ethics among other things. Furthermore, being part of the host family program made it possible for me to feel as if I was at home, not really away from my loved ones. I have grown to love my host father and mother, plus their three wonderful daughters who I now consider as my older sisters.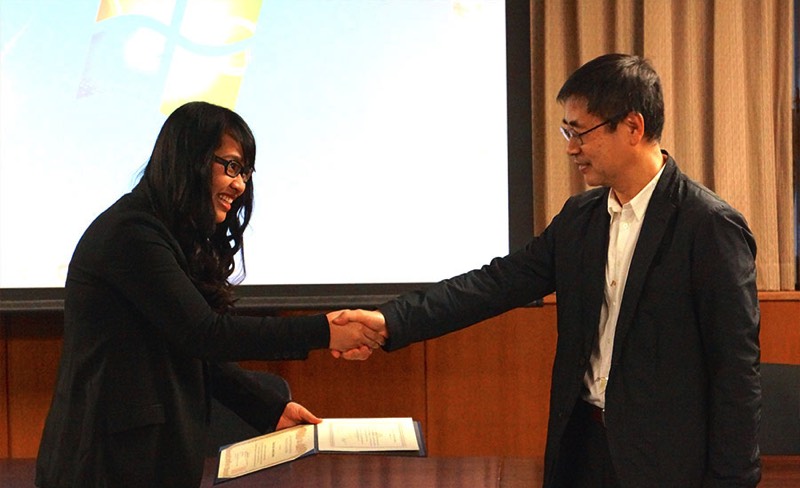 For the entire semester, I took three classes under two brilliant OSIPP professors: Prof. Akihisa Matsuno (Peacebuilding) and Prof. Hiro Lee (Regional Integration and International Trade Policy). The courses offered in OSIPP are very different from what I had taken before. Peacebuilding, for one, is new to me. Of course, we also had discussions on conflict and peacebuilding in DLSU but it was not as detailed and as focused as it is in OSIPP. Moreover, I have always felt that each time I attend class in Japan, I was attending some sort of international seminar (or a United Nations convention, that is) because the students were from all parts of the world, which further enriched the discussions of the different issues being tackled as there were more perspectives and, sometimes, personal experiences shared.
Aside from the academic side, the extra-curricular activities I participated in provided me with an experience like no other. During school visit programs sponsored by Osaka University, I was able to share my culture - a small piece of myself - to Japanese elementary and high school students. In turn, I learned more about the Japanese educational system, language, lifestyle, culture, behavior, and ethics among other things. Furthermore, being part of the host family program made it possible for me to feel as if I was at home, not really away from my loved ones. I have grown to love my host father and mother, plus their three wonderful daughters who I now consider as my older sisters.
My favorite part of the entire program, I would say, was my week-long internship at Kinran Senri High School, under the guidance and supervision of Mr. Ken Tsujimoto and Moriwaki-sensei. The internship was short but very meaningful. During this time, I was able to see and experience for myself the unique Japanese working environment. As a part-time teacher at the Japan Foundation, Manila, I already had prior experience working with Japanese teachers but my experience at Kinran Senri High School takes that experience to an entirely different level. As expected, all the teachers were very friendly and approachable, and they all welcomed me with enthusiasm - something I did not really expect. As an intern, I was prepared to work hard and fulfill expectations, but, in the end, I found myself enjoying the tasks I was given, having fun while teaching, getting used to the setup of the teachers' room, greeting other teachers as if I was genuinely part of the team. Furthermore, I ended up learning valuable life lessons from my mentor, Moriwaki-sensei, and, of course, the students. All in all, this experience gave me courage and confidence to work hard on achieving my dreams. I even remember Moriwaki-sensei saying, "Each student is different. Each has his/her own particular needs". If I think about it now, the same should be said about peacebuilding. Each conflict - however similar it may be with previous ones - is new and different. Hence, solutions or actions for peace should come as results of mutual understanding and compromise. Yes, we all may have different beliefs, ideas, and cultures, but as a teacher adjusts his lesson in order to meet the needs of his students, we also must set aside our differences, look beyond ourselves and come up with compromises that would lead us a step closer to a world that is peaceful and free from conflict.
The friends I made while in Osaka, especially my co-PAHSA students, also made the program more fun and worthwhile. It was not easy getting along at first, but as we remained open to each other's ideas and personalities, we all managed to meet at a common ground and see eye to eye. I miss you, PAHSA 2013 family.
Till we meet again!
おせわになりました。どうもありがとうございました!
Both Academic and Personal Growth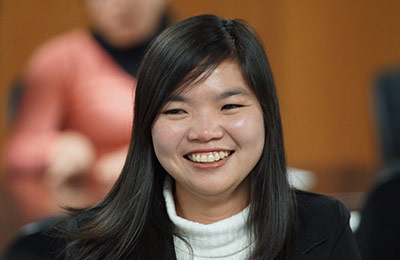 Lay Sok Huy
Pannasastra University of Cambodia (PUC)
@ OSIPP, Osaka University
When offered the opportunity to study for a semester at Osaka School of International Public Policy (OSIPP), Osaka University, in the program of Peace and Human Security in Asia, I moved to Japan to study for six months along with other students from Southeast Asian universities. These students were from the Philippines, East Timor, Indonesia, and Thailand. Right from the start we could all see that it was a good program to build peace in Southeast Asia as students from the region came to study and live together in Japan. We quickly built trust and developed understanding among us, things that were needed to settle in a new country. Later I was to find out that this same approach is needed in order to avoid future conflict on a wider stage, especially in the Southeast Asia region. I was to learn many things in Japan, not only about Japanese culture and society, but also much about Southeast Asia. Many of my immediate neighbors faced similar obstacles blocking further development in our region. The experience was wonderful both in terms of the academic work, the friends I made, and the daily life in Japan.

From the start, OSIPP provided a supportive learning environment for its students. There were great facilities such as the network center that allowed students to conduct their study round-the-clock. In addition, learning materials were accessible online and it was easy to identify those that were related to the topic of study. The library too was also user-friendly. Most books that were needed could be found quickly. Lectures were engaging and not too professor-focused; instead students were actively involved in the learning process. The Diversity of students in the classroom was wide-ranging. Coming from all over the world, they somehow broadened the course syllabus, I came to understand world issues from their perspectives and the kind of challenges they face. During class discussions they would be keen to understand the issues in my country.

By studying in Japan for a semester, I enriched my graduate thesis by focusing on Japan's post-conflict (post-WWII) economic development policies. I became particularly interested in those policies that led Japan's economic ascent accompanied by a substantial improvement in its human development index. This I believe could be a great source of policy learning for Cambodia in particular as well as for other post-conflict developing countries in general.

On a more personal level, I have learnt a great deal about Japanese culture and society. The successful economic development that took place after World War II is not only about good policies, but the participation of Japanese citizens, characterized by hard work, responsibility and accountability, cannot be overlooked. Turning to the case of Cambodia, such commitment, the political will as well as the right human resources, are needed in order to guarantee further development and prosperity for the country.

In addition to the academic program, I also joined a school visit volunteer program and visited several high schools and primary schools. As international students in Japan, we were required to give short presentations about our countries. It was my honor to have the chance to talk about Cambodia and to play a part in helping Japanese students increase their awareness about Cambodia, its culture, and society as a whole. Through the program, I learned much about the educational system in Japan and the importance of good facilities, well-structured curriculums, and the many co-curricular activities the students enjoy. This well-rounded education has contributed in building a strong economy, it is a sound example that Cambodia can look to.

The semester program in Japan was my first time to spend an extended period away from home. It was a great opportunity to learn how to be independent and to stand on my own two feet. There were difficulties and challenges, but despite these I would consider this time as one most precious in my life. Indeed, I made lots of new friends from different countries, and in many ways these people changed my perspective toward the world. I became more open-minded and more understanding about cultural diversity; my thinking changed. Spending six months on the PAHSA program in Japan, meeting diverse and interesting people, and finding out more about others and myself, meant that I returned to Cambodia more open-minded, independent, and with greater confidence.

All in all, studying in Japan for six months can be said to be a turning point in my life. It benefitted me academically and developed me personally. I am now inspired to look at the situation in Cambodia with greater clarity, and feel inspired to help my homeland overcome its challenges. The PAHSA semester program offered me a new perspective on the world.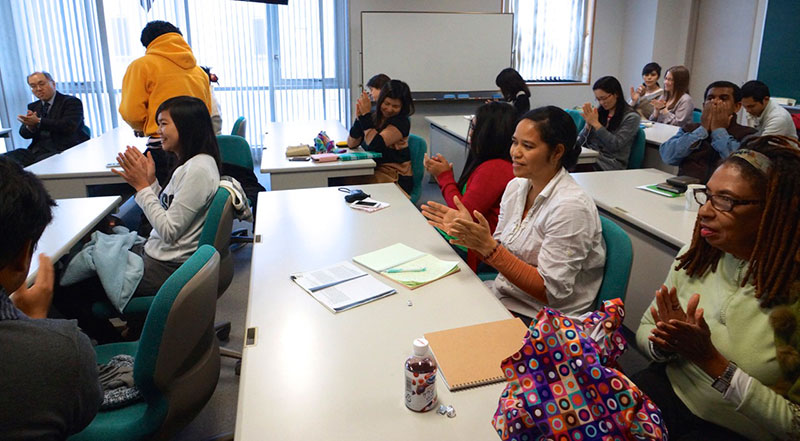 Semester students in Japan pose for photos after their end of course presentations at OSIPP, Osaka University, March 2014.Students applaud at the end of one of the special guest lectures at OSIPP
Promoting Efforts at More Sustainable Peace Agreements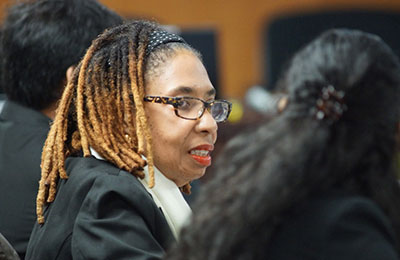 Raylena Church Fields
Payap University
@ OSIPP, Osaka University
My knowledge base about world conflicts has been greatly expanded through the analytical courses in peacebuilding and restorative justice offered by the Peace and Human Security in Asia program. The experience further inspired me to employ my extensive journalistic achievements to promote efforts at more sustainable peace agreements from within a human security perspective. At Osaka School of International Public Policy (OSIPP), I decided my future entails using my investigative skills to assist prosecutors build solid cases against human rights violators: gathering testimonies and evidence.

I was invited into the PAHSA study program as a Ph.D. candidate at Payap University's Peace Studies Department in Chiang Mai, Thailand where I have taken classes with Buddhist monks and have also taught them English writing.

Thanks to the PAHSA program, I am not only learning about the conflict between Muslims and Buddhists in Southern Thailand, and the Burmese evolution; but also the history of explosive tensions from the South China Sea to Indonesia, the Philippines and Malaysia. The PAHSA courses also covered conflicts from Rwanda to Palestine and the former Yugoslavia to Egypt.

Beyond the academics, there was a wonderful, guided opportunity to really live inside the Japanese culture. The university provided each PAHSA student with a Japanese host family. This was so gracious and an incredibly enriching experience.

Japanese perspectives and customs were explained. Solid relationships were built. We traveled to Kyoto and visited one of many natural hot springs. I was welcomed into traditional Japanese flower arrangement classes and the treasured tradition of the tea ceremony taught by a master of the art. I was also introduced to calligraphy.

I adored Osaka, my work, my host family, the art classes and the unidentified grandmother who, standing behind me on the monorail escalator, played with my dreadlocks because she was curious about my hair.

A lesson from my host mother ... Daijoubu !!
A Priceless Experience at Hasuhana Junior High School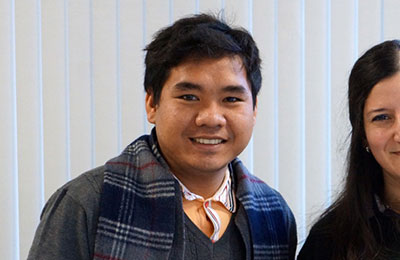 Sohan Mang
Pannasastra University of Cambodia (PUC)
@ School of Law, Osaka University
After four months as a student on campus on the PAHSA program at the Osaka School of International Public Policy (OSIPP), Osaka University, I had an internship opportunity as an Assistant Language Teacher at Kadoma Hasuhana Junior High School, Kadoma City, Osaka prefecture. Although my stay at the school was relatively short, just five days, it turned out to be a truly wonderful experience.

An internship program such as this is about directed, practical learning experience outside of the normal classroom setting. But this program turned out to be more than that, it was also about connecting with people: getting to know the school's teachers and students.

Under the guidance of the school principal, Ms. Kyoko Sawada, and my supervisor, Professor Akihisa Matsuno, I could find out first-hand how Japanese junior high school teaching staff work together. Right off the bat I realized working in a high school is very challenging and teachers need to be patient, meticulously organized, and dedicated. Although I woke at 5 am and arrived at school before 8 am, there were already many teachers in the staffroom diligently preparing. As a Cambodian, I could only compare this to my own country where teachers are normally at school by 6 am, one hour before classes start, and they officially finish at 5:30 pm, except the management who often stay slightly longer. Officially Japanese teachers' hours are shorter, yet this is only on paper. It is common to see Japanese teachers working late into the evening, sometimes very late. For the teaching staff, there is no time for long lunches or leisurely breaks either. Lunch breaks are just 30 minutes and the short morning and afternoon breaks are spent dealing with students or preparing for their next lessons.

While at the school I learned about the management of a Japanese junior high school curriculum which differs greatly to what one sees in Cambodia. Each day students have six classes, they start at 8:45 am and finish by 3:45 pm. Each lesson is 50 minutes and there is a ten-minute break between classes. The timetabling is different in Cambodia where for the first twelve years of education, students attend four hours shifts, either mornings or afternoons. This is why teachers need to be at school by 6 am.

Although in Japan the national curriculum is broad, including things like art, music, science, and sports, like other junior high schools, Hasuhana also offers a scope of club activities for their students. Such a variety of classes is usually not found in the less equipped schools in Cambodia. Similarly absent is the array of after class club activities. At Hasuhana these include baseball, basketball, soccer (football), badminton, swimming, dancing, music, running and others. Most students participate in these club activities from 4:00-5:30 pm. Even the short lunch break is maximized. Some teachers have lunch in their classrooms with students, others, including the principal, eat together in the teacher's room and discuss the issues of the day.

From the first to the fourth day while at the school, I taught nine classes for grade one and two students. Though some might have struggled to fully understand my English, I could see that the students were engaged, curious about my presentation, especially the current situation for the young people in Cambodia. I quickly realized that keeping the students engaged is one of the most important missions for a junior high school teacher; otherwise, many students, typically 13 years-olds, might fall asleep or tune-out during class. A lot of energy was expended to produce dynamic teaching. As classes progressed I monitored my performance, students' attention, and evaluated my presentation style. By doing this, the latter teaching was considerably improved.

Besides teaching, each day I had lunch with grade one or two students and their home teachers. For me, these times were the most meaningful. Bonds can be quickly formed in a school, and somewhat emotionally, at the beginning of the fifth day, my last, I took the opportunity to express my feelings with a short speech to the school principal and all the teachers. Saying goodbye was not easy.

In short, my time at the Kadoma Hasuhana Junior High School was a wonderful experience that will crown my study in Japan. Even though my time there was short, I gained much knowledge and developed new skills. As I look to the future, I feel what I learned from this internship program could be of benefit in my home country. In Cambodia many changes are needed in the educational system in its next stage of development. On a personal level, the experience of the Japanese working environment and culture is priceless as it truly broadened my perspectives.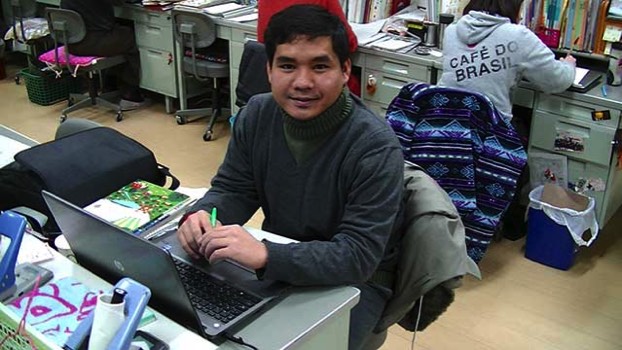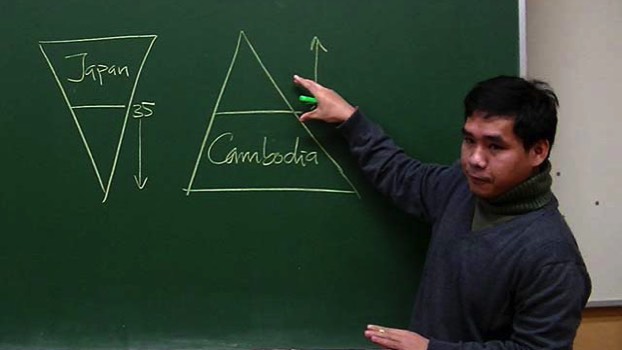 Preparing for teaching which had to be 'dynamic' in order to engage all the students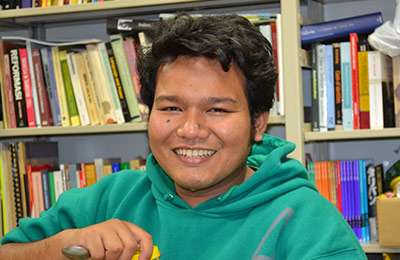 M Yusrimirza Latif
Syiah Kuala University
@ School of Law, Osaka University
My time as a foreign student in 2012/13 marked some of my most memorable life experiences. I embarked on a student exchange program and spent one semester as an exchange student at the School of Law, Osaka University, Japan. This program became a milestone in my life, it seems unbelievable that so many experiences were crammed into just a few short months. Meeting new friends, interacting with those from different backgrounds, living independently in Osaka and seeing Japan from many perspectives, all of these were truly precious experiences.

I gained many benefits from this unique program. In this report, I would like to sum events into two areas; those related to study at Osaka University, and other broader experiences of my time in Japan.

The first area contains those things based around the classroom. As a foreign student in Japan, attending classes at Osaka University was a new educational experience. Classes had a more multicultural feel than I had previously known, students came from varied backgrounds and this environment increased my passion to participate more actively. The professors and lecturers influence my study greatly. As students we experienced many different approaches and teaching methodologies from the faculty members and guest lecturers. The experience was novel, lectures were engaging, and sometimes lectures seemed like special events. Even after leaving the classroom, students' minds were still captivated by the topic. By combining both an active multicultural class and professional teaching staff, I got the most out of the teaching that took place.

Another positive aspect of the study was the breath and depth of lectures that were available. In this program there were several sessions that prepared students to undertake fieldwork on topics connected to the program theme, Human Security. Uniquely, in one semester participants were allowed to choose from varied classes in order to find the exact fit for their area of study. Academically, I developed much-needed research skills and approaches, they included; cross-cultural adaptation and skills building, project selection and refinement, organizing and presenting, and detailing findings and maintaining journals. Certainly, this knowledge will strengthen my academic skills as I move forward in my study life.

Secondly, this program offered a key that enabled me to broaden my international understanding. PAHSA programs lead students through cultural experiences as much as academic ones. These take place inside and outside classes. While in class, issues related to globalization, development, poverty, and social inequity related to Human Security are tackled. But in non-academic programs, such as students' festivals and host family events, one could learn about Japanese culture and attitudes directly from the source and this provided the framework for some classroom sessions.

Indeed, students' activities, organizations and extracurricular programs massively enriched the experience during my six-month stay in Osaka. Trying out new activities such as Aikido training, Kanji calligraphy writing, or even watching Momiji as a process of recognizing new cultures is a precious opportunity. But at times, Japan and the cultural differences to my own country were positively overwhelming. There can be culture shock, unfriendly weather, food issues, communication problems and schoolwork pressures. Yet while these might seem stressful at the time, overcoming them made me stronger and I am sure have prepared me for greater challenges ahead.

Now back in Aceh, I will see things a little differently. With this experience, I will apply my knowledge with a more nuanced understanding of the world. Personally, I believe the PAHSA program succeeds in creating mobility among Japanese and South East Asian students. It helps us get to know and understand each other more deeply. It also proves that a country's borders are no longer a limit to building relationships between students, between peoples, and between cultures.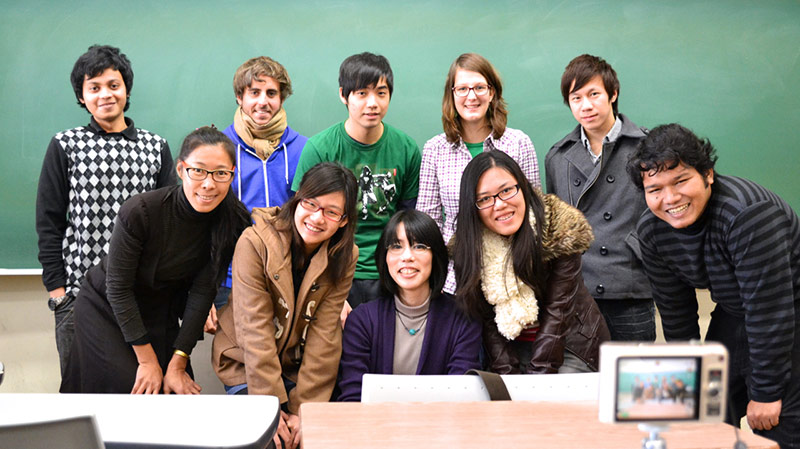 Osaka University: active multicultural classes and engaging teaching
Foundations for Peace and Human Security in Asia and Africa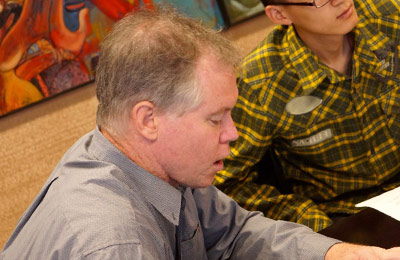 Mark Curry, PhD Candidate
De La Salle University
@ OSIPP, Osaka University
Japan has been responsible for a number of pioneering actions as an Asian country that have rippled from the East to the West in the modern era. The major step was industrialization after 1868. Militarism, too, cannot be ignored, from the Russo-Japanese War that shocked the world with Japan's victory in 1905 to the embers of World War II that have left an indelible impression on the present. But today Japan is more known for innovations in technology, miniaturization and robotics, consumer culture, animation art, international cuisine and disaster management. The latter case is exemplified by the response to the Great Hanshin earthquake of 1995 that saw Kobe rebuilt within two years. It is therefore significant that initiatives towards peace and human security in Asia and Africa are constituted upon networked relations, support, continuity and commitment involving Japan and the PAHSA consortium with Osaka University as a hub. My experience of Osaka University as such a hub has been a revelation.

First, the planning for the program I participated in was exceptional. Every possible contingency was expertly accounted for. Communications were professional, timely, complete and responsive. Every bureaucratic detail – where this involved the Ministry of Education, the Embassy of Japan, the Bureau of Immigration, as well as local city officials with regards to pension, health insurance and residential registration - was exemplary. The process was stress-free, quick, efficient, intelligently and politely handled, and involved zero extortion. There is no question in my mind that even these prior and establishing aspects of state-citizen-resident-visitor relations deserve to form part of a template for policy and official practices in the region. Peace and human security are not conditional on conflict but are imbricated in how individuals and communities create the state and the mutuality of responsibilities and expectations between them.

Second, the environment at Osaka's School of International Public Policy deserves special mention. The array of courses on offer in English meant that there was far more available than could possibly be accommodated. All courses, in my experience, were handled warmly, capably and professionally. Equally appealing was the range of interests of the research scholars and graduate students currently busy in the School. They have adequate, comfortable and well-managed facilities; there is funding for research and field work; there is ongoing and diverse exposure to seminars and presentations of distinguished visiting scholars; and the support base is solid. Individuals were mutually supportive, generous with their time and helpfulness, and sincere. These qualities are all the more valuable when it is considered that they evolve in a dynamic community of international and Japanese graduate students who are constantly on the move and whose time in the School is generally only for three years or less.

Third, I learned of research being conducted in Diego Garcia, East and Central Africa, East Timor, Cambodia, Aceh, Mindanao, Southern Thailand and in many more places besides. A rich repository of knowledge, experience, engagement and contributions towards peace and human security in Africa and Asia is steadily being compiled and it would be a great step forward for the School if it could become the premier research hub in Asia for such ongoing innovative, experimental, theoretical and developmental initiatives. In this sense, a vision of Osaka University's School of International Public Policy as a key foundation for peace and human security in the region and across the world is laudable and worthy of state and institutional support.

Finally, it is not always possible for a semester exchange program to deliver a compositely rewarding and revelatory experience for all individuals and groups. But in all honesty I think it is difficult to imagine how this experience could have been improved, except if it had lasted longer and had given me a chance to take part in all the classes and courses I had to forego because of schedule and time limitations. I would wish only to extend unqualified thanks and gratitude to all those who created, administered and supported the JASSO program and to those members of OSIPP I was fortunate enough to get to know and learn from. I am grateful for the peace and sense of security I see at work in your array of pioneering initiatives.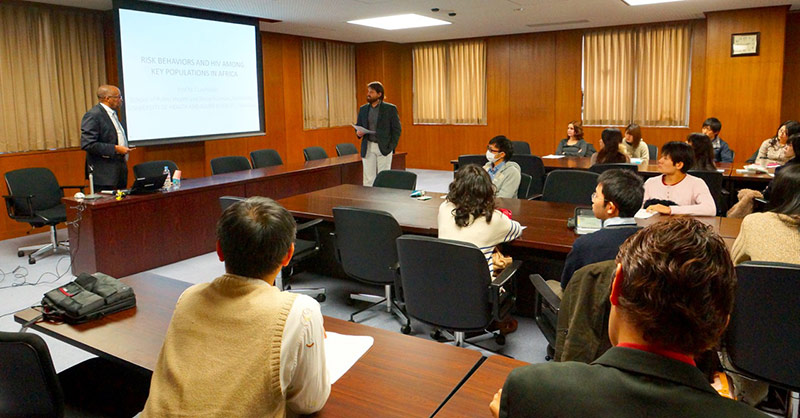 "OSIPP offers ongoing exposure to a diverse range of distinguished scholars"
Burmese Migrant Workers in Japan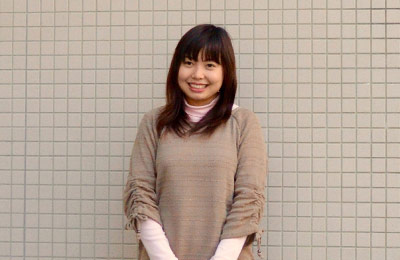 Chit Su Thar
Payap University
@ IDEC, Hiroshima University
From September 2012 to March 2013, I spent a semester at the Graduate School for International Development and Cooperation (IDEC), Hiroshima University, Japan, as part of the PAHSA (Peace and Human Security in Asia) Campus Asia program. There were three purposes for applying for this program. The first was to have the chance to study in Japan. As a student at Payap University in Chiang Mai, Thailand, study in Japan would offer the experience of a study environment in a more developed country. The second reason was to enrich my international understanding—particularly in the cultural aspect. The third, and probably the most important purpose was to do the research for the second part of my thesis. I can confidently say that these three objectives were accomplished after my six months study in Japan. Of my three initial aims, I would like to write about the third, the work on constructing the second part of my thesis which focuses on Burmese migrant workers in Japan.

While in Japan I conducted in-depth interviews and undertook a structured survey with Burmese migrant workers in Tokyo. The data from these interviews was subject to qualitative methods focusing on the personal recounts of the respondents. The seven survey respondents fell into four categories: one NGO worker, three part-time workers, two housewives and one small-business person. The types of permits to say in Japan differed: some were holding refugee status, some were in the process of applying for refugee status, and some had residential status. According to the data, 95 percent of Burmese migrants in Japan are working legally and in accordance with the rules and regulations of the Japanese government. Therefore it might be suggested that there is less exploitation and discrimination towards Burmese workers in Japan than what might be seen towards the same group in Thailand where it is reported that there is over a million largely illegal and undocumented workers. The survey showed that language efficiency and financial problems create the main difficulties for Burmese migrant workers. Not only are living costs high in Japan but there is only a small Burmese community who can speak Japanese fluently who might assist other Burmese migrants. For the same workers in Thailand, these issues can be less problematic. Living costs are much lower and because of the proximity to Myanmar and some language similarities, Thai is more widely understood and communicating is less of a challenge.

My research has two objectives: (1) To identify the common ethical challenges for Burmese migrant workers in Thailand and Japan; (2) To explore the ways to minimize ethical challenges in Japan and Thailand. I will focus on four issues as ethical challenges for this research study; migrant's rights, exploitation, unsafe working and living conditions and physical and verbal abuse. In this essay I will discuss one out of the four ethical issues, those in regards to migrant rights.

According to respondents, if working legally in Japan, workers are protected and have access to health care and compensation following work injuries or accidents. The status is the same for both Japanese and migrant workers. If they have residential status, they also have the right to schooling for their children. If they are long-term residents, they are allowed to buy motor vehicles, homes and land. It was indicated by my respondents that most Burmese migrant workers in Japan generally benefitted from migrant rights. The same cannot be said in Thailand where rights for illegal Burmese workers are given scant regard. Even rights for legal Burmese workers are often overlooked in the Thai case. In Japan, There are also labor unions on both the Japanese and Burmese side to assist and protect Burmese migrants. Furthermore, the Japanese government has assigned migrant-related non-profit organizations to the group. There are a number of NGOs related to Burmese migrant workers currently active in Japan. These include the Karen Information Space (KIS), the first United Nations recognized human rights organization for Burmese in Japan. The KIS acts as intermediaries between the Japanese government and Burmese migrants. Their expertise is in ethnic issues, the education of children of Burmese migrants and assistance in applying for status to stay in Japan.

The fact that Burmese migrant workers in Japan are legal while many of those in Thailand are not has a large bearing on the situation of the migrants. There are also considerably fewer Burmese migrants in Japan. In Japan many Burmese migrants enter Japan under two conditions: the possessions of a passport and often, clear refugee status. Therefore Burmese migrants tend to enter Japan legally in the first place, which makes applying for long-term stay or employment status more straightforward later. This is not the case in Thailand where most Burmese migrants cross the border into Thailand illegally. After comparing the two countries and speaking to migrants in Japan, it is clear that their formal legal status is directly linked to their quality of life in their new country.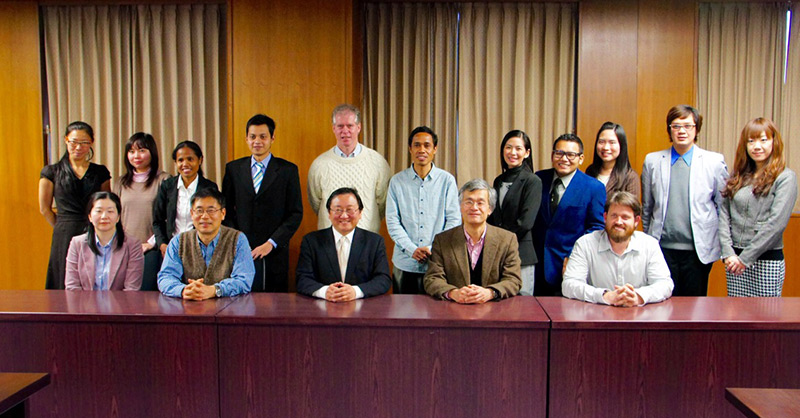 PAHSA students and professors line up for photos after the end of the students' semester presentations in March 2013.
Telling the 'Other Story' About Okinawa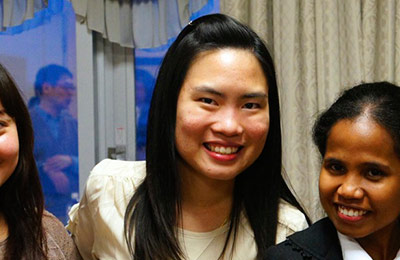 Theeta Woodtikarn
Payap University
@ Meio University, Okinawa
With the opportunity to study for a semester at Meio University, Okinawa, I was fortunate to have time to find out about the issues surrounding one of the most beautiful islands in Asia. Okinawa is often in the news for the controversy of the U.S. military bases and their impacts on the island and the people, yet there is so much more that Okinawa has to offer the world. Okinawa is known among Japanese tourists for the clean ocean, beautiful scenery, and also the unique kindness and hospitality of the local people. With these attributes, there is no reason why Okinawa should not be mentioned in the same breath as the world's prime island destinations. But unfortunately, the hot potato of the U.S. 'occupation' drowns out the other the story that Okinawa has to tell. My semester as a Peace and Human Security in Asia (PAHSA) student at Meio University, 2012, provided me with the opportunity and expertise to understand Okinawa's issues surrounding peace and security in tourism.

Peace and security in tourism is very important. If destinations are not safe tourists will stay away. In Okinawa, the U.S. military bases make up 75 percent of all military facilities in Japan. The impact of the U.S. military presence on Okinawa is manifold. On the one hand there are problems, such as noise and other forms of pollution as well as crime committed by U.S. service personnel. On the other hand, the local economy benefits from U.S. bases. Higashi village, in the north east of Okinawa prefecture, has several beautiful natural resources. Nevertheless, the Takae district in northern part of Higashi village is also the U.S. marines' Northern Training Area where they have constructed helipads or landing areas for training. The local people have been suffering from the sound of the aircraft, and they are also exposed to the danger of possible accidents. They have also found used munitions in the dams in the northern part of Okinawa which were left after training activities. Local inhabitants have been protesting against the military bases in Okinawa (No Helipad Takae Resident Society, 2010). The Battle of Okinawa in World War II has also left many scars in Okinawa, including Ie Island, where fighting took place between Japanese and U.S. troops.

In spite of these symbols of war and military, tourism in Okinawa is changing focus to allow tourists to experience the lives of local people (lecture by Mr. Katsumi Yamashiro, January 22, 2013). Tourists are now looking to explore new destinations where they could come into contact more closely with local culture and historical heritage, and in this context, home stay or minpaku, is becoming an important contributor to the local economy. The home stay program was introduced to the northern part because the young people from the villages moved out to work or study on mainland Japan or the southern part of Okinawa, such as Naha. As a result, the rooms of the children of the villages became vacant, and the home stay idea was introduced as a way to use these assets. Since the populations of the villages were on the decline, it was also good for them to have new visitors so as to promote their agricultural activities and products to this new market.

Home stays in the northern part of Okinawa have since become popular. One of the main reasons is that the Japanese Ministry of Education recognized the importance for the young generation to experience traditional village community life. Most Japanese families live in cities today and are nuclear families with only parents and children. The children grow up with little understanding of farming villages that produce much of the food they eat (interview with Mr. Miyagi Yoshikatu, Nago City Visitors Bureau, 6 December 2012). Therefore, it is a good idea for village people to teach and express community life through fun and enlightening activities, workshops, performances, and community projects. School students are taught how to play local instruments, learn about the history of Okinawa prefecture at the museum and participate in agriculture activities.

On the other hand, the home stay program is also fairly tricky to organize. If they accept 100 students, they have to provide 30 or 40 families' home stays. Quality has to be maintained and the program also needs the full understanding and cooperation of the community. Furthermore, visitor safety remains important. Mr. Yamashiro explained his experience of dealing with many situations, such as a child drowning in the ocean, a student infected with influenza visiting Ie Jima Island, and encounters with typhoons or other natural disasters that pose dangers. Moreover, Mr. Keryu Miyagi, the chief executive of NPO Ogimi Green Tourism Association, identified that each village has its own sets of rules and regulations in order to protect nature, life, and the culture of the village. Therefore, those running the programs and members of communities need to work together in order to see the greatest socio-economic and environmental benefits for communities.

It is hoped by many that in the near future the Japanese and the United States' governments will somehow resolve the issues surrounding the military presence in Okinawa. I feel sure that someday the land and its people will be liberated. Yet in the meantime, relatively small-scale experiments in tourism are developing gradually from a niche market and are picking up steam. Efforts are being made at the local level to provide a secure yet engaging environment for visitors. And as Okinawa moves forward, small-scale social experiments in tourism might bring with them some large-scale changes. During my six-month stay and spending time with the grassroots, seeing the seeds being sowed for the future was an exciting experience. Tourism projects like the ones mentioned in this essay are shining a spotlight on the side of Okinawa that's seldom reported - one of the most pleasant islands in Asia.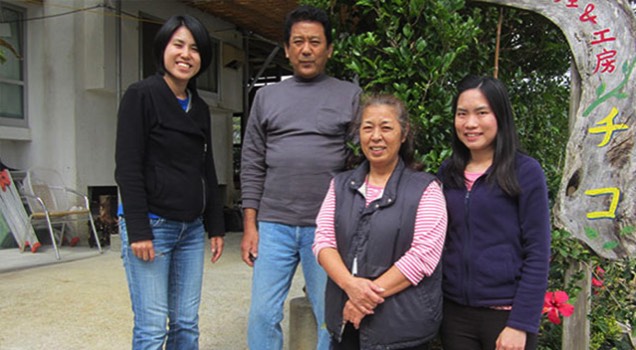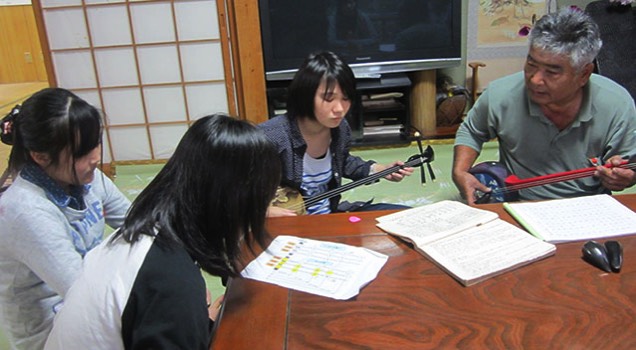 Picture 1— Uehara-san of Meio University, a host family and myself at Ogimi home stay, February 2013
Picture 2— Young people are taught how to play the Sanshin (an Okinawan instrument) by a host family
Living and Studying in a New Culture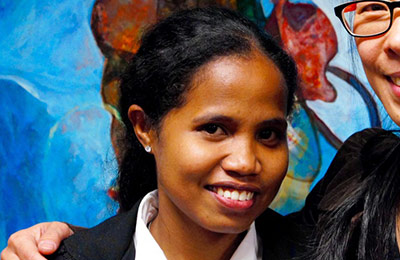 Elsa Joaquina Araujo Pinto
East Timor National University
@ OSIPP, Osaka University
I feel fortunate to have had the chance to be part of the PAHSA (Peace and Human Security in Asia) student exchange program. The program offered me the opportunity to spend one semester away from my home university, the East Timor National University, and to live and study for six months at a university in Japan. In my case, I moved to Osaka, and spent a gainful semester at the Osaka School of International Public Policy (OSIPP).

Before my trip to Japan I knew very little about Japanese culture or way of life in the country. I suppose that may have been remiss on my part. Yet with few preconceived notions and the expectations that the prior knowledge would have evoked, I am able to share things I experienced while studying in Japan through fresh eyes. Without doubt, adapting to life in Japan was a journey for me. And even though I am now back in my own country, I feel the final chapter of that journey is yet to be written. In this essay I would like to share some of my feelings and observations.

Daily life in Osaka was a revelation after Timor Lorase'e. As it was my first time away from home for an extended period, it was a relief that Japan felt so safe and welcoming. Respect for other people, diligence, and the sheer punctuality of everything in Japan was comforting and reassuring. It was soon clear that the culture of respect for others is really strong in Japan. Everywhere you go you will always hear the words: summinasen (excuse me), gomenasai (I am sorry), and arigatou (thank you). These were the first three words I memorized, ones I used a lot in my daily life. Although not many Japanese speak English, a good number seem to understand the global language (or parts of it) and are willing to make an effort to understand foreigners. And even though most things are written in Japanese scripts, it was not that difficult for me to live in Japan, this is testament to the welcoming nature of the people. At the times when oral communication failed me, body language and a ready smile would usually save the day. Of course, the three magic words summinasen, gomenesai and arigatou, also helped things along.

It was not only daily life in Japan that brought with it new experiences, but the place were the academic work took place, OSIPP, was also a revelation. The personal and supportive relationships between Japanese professors and their students are very different from what I had known before. This understanding can only benefit one's study. Among students as well as between students and professors, a lot of communication takes place through email and these channels are always active. There is a lot of information sharing that takes place; announcements of events, submission of assignments, and questions related to class, all are done via email.

Before starting a semester, the students on the program were given the chance to sit in on classes for two weeks to get the measure of classes so they could best select the ones that would fulfill their needs. Should the student wish to officially join the class and gain credits for study, they would need to register. Yet many professors are happy for students to sit in on lectures in a more informal way if they are not registered, but of course this would mean no credits would be obtained.

The structure of a series of lectures is easy to follow. Most professors provide the outline on the outset, it details the materials covered and provides a reading list, the professors also explain the grading system. The students are graded based on their capacity to complete tasks and assignments as well as their active participation in class. Most impressive for me personally is that we were asked at the end of the course to evaluate the teaching that had taken place and the performance of the professors. This evaluation covers such things as the professor's classroom performance, the materials covered, and the interaction in the classroom. This was a very new process and unheard of in my own country.

As I think back now to my experience on the PAHSA program, learning and living in Japan for six months, I have to conclude that it has changed me considerably. Few things in life change our personality, but I feel my time in Japan has changed mine for the better. I am now more independent and understand people better. While living and studying with Japanese and other foreign students, I had to learn how to fit in and understand others. These changes, as well as my improved knowledge of International Relations, thanks to the excellent classes at OSIPP, have reinvigorated my academic life. Arigatou!
"Daily life in Osaka was a revelation after Timor Lorase'e"
Small Stones Build Strong Edifices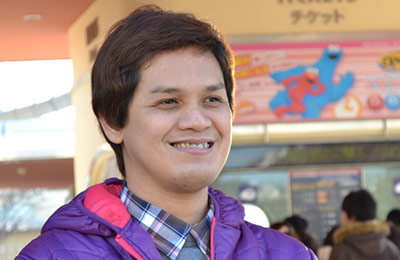 Richard Feliciano
De La Salle University
@ OSIPP, Osaka University
When the opportunity to live and study in Osaka came along, I wasted no time to prepare myself to join the Campus Asia Program on Peace and Human Security in Asia (PAHSA). The student exchange program facilitates Southeast Asian students to study in Japanese universities in the area of peace and human security in Asia. In my case, I studied for a semester at the Osaka School of International Public Policy (OSIPP), Osaka University. In total, there were eight PAHSA students at OSIPP. These students, varied in their backgrounds and areas of study, came from the Campus Asia partner universities in the Philippines, Thailand, Timor Lorosa'e, and Aceh, Indonesia. There were two other students on the program, one attended IDEC (Graduate School for International Development and Cooperation) at Hiroshima University, and another spent time at Meio University, Okinawa.

This was not my first time in Japan, but was my most productive stay compared to my three previous trips. But before continuing, first let me offer some background information in order to bring relevance to this statement.

I have been teaching mass media subjects (communication/journalism/film) for the past 15 years in the Philippines. The opportunity to join the PAHSA program enabled me to take a step away from a busy teaching schedule and offered the breathing space in order to conduct research and update my knowledge. My time on the program was very productive and OSIPP turned out to be a rich source of information. It was especially so because of the knowledge gained from my chosen classes, namely Japan's Mass Media (ably handled by Prof. Kondo) and Gender and Education (by Prof. Yamamoto). These were both directly relevant to my own teaching and much of what I gained from classes will be shared with my students in the new academic year, which is about to start.

On a personal level, the trip was also most meaningful as it gave me the chance to interact and reconnect with Japan and its wonderful people and culture, which I must admit, has been my ticket to professional success for many past years. The chance to be in Japan for six months humbled me and offered reassurance that the country I had learned to love so much as my own had not changed a bit.

Moreover, the scholarship could not come at a much better time as now I have more experience and a wider perspective since my last long stay in Japan. This took place back in 2001 as a recipient of the Japan Foundation's Japanese Language for Post-Graduate Program at the Kansai Koryu-kikin, Kansai Kokusai Senta. My stay at that time was for four months.

I shall always look back on the PAHSA Project with many fond memories. The experience not only enabled me to once again "fall in love" with Japan but also made me richer with the interactions with the new friends I made during my stay. Thanks are offered to the wonderful people who made it possible for me to join the program. To my Chairperson at the International Studies Department, now Dean of the College of Liberal Arts, Prof. Julio Teehankee, my debt of gratitude is immeasurable and also to all the HANDAI (Osaka University) people, especially Prof. Akihisa Matsuno and his very competent reliable assistant Yoko Kawano.

Lastly, in today's information age, it is sometimes easy to forget that real life experiences of people and culture offer more than just what the Internet and books might provide. And this is what this program has given me; real experience which shall go a long way in my professional career and future endeavors to come. I am sure that I, like my fellow Campus Asia/PAHSA students, shall put into good productive use the lessons learned and experiences during our stay. And we hope that the small stone we can share shall be enough to build a strong edifice for better peace and human security in Asia and the world.

Honto ni, kokoro kara, arigato gozaimashita!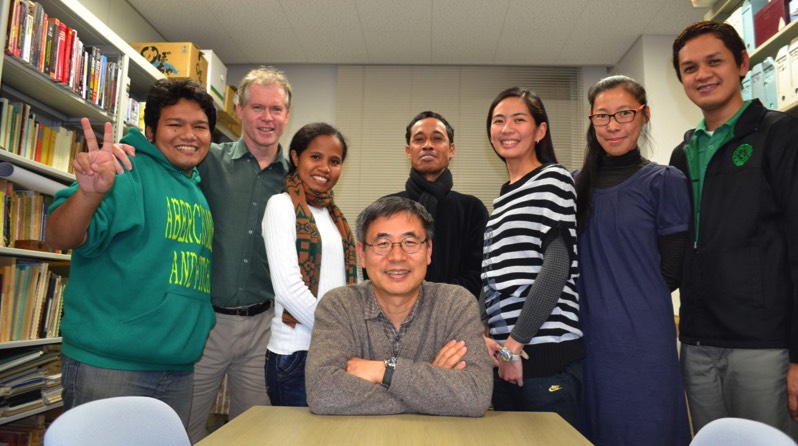 Students of various nationalities with Prof. Akihisa Matsuno (seated). Photo taken at OSIPP
Comprehensive Understanding of Multidimensional Dispute Settlement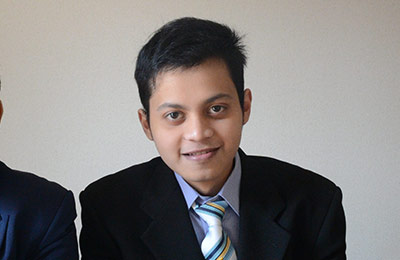 Rival Al Muqaddis
Syiah Kuala University
@ School of Law, Osaka University
After inheriting the immense humanitarian tragedy and unforgettable wounds caused by World War II, some believe that Japan has totally renewed its international policy and ideology remarkably. The post-war pacific ideology has guided Japan to become a remarkable state in Asia in playing prominent roles and taking positions that set international norms and rules. A number of contributions to global development are noteworthy, especially in enhancing social prosperity and minimizing the social gap. Japan has also developed comprehensive understanding and expertise in disaster management.

The ability of Japan to be pioneering and innovative while placing priority on basic human rights for its people at the same time is praiseworthy, and it sets a goal for other Asians. In the international arena, Japan actively encourages and wholeheartedly promotes peace and human security by formulating the concept in a convincing and persuasive manner. Here is a summary of my research and activities during my study in Japan under the Peace and Human Security in Asia (PAHSA) program.

Since the program involves international students from post conflict areas, such as Aceh, where I come from, I luckily obtained the golden opportunity to come to Japan in 2012. The ferocity of the conflict in Aceh—its atrocity, genocide, humiliation and degradation of human rights— has left traumatic memories particularly for those who were directly involved in it. Such memories assisted my academic research during the program. It is an undeniable fact that Japan has been part of peacebuilding in Aceh, where the insurgency movement erupted in the 1970's and escalated significantly after the Soeharto regime was dethroned in 1998. Japan's involvement in the Aceh peace process was marked by its support for the signing of the Cessation on Hostilities Agreement (CoHA) in 2002 after a fairly sticky negotiation process between the Indonesian government and Gerakan Aceh Merdeka (GAM). This historical background helped me to ascertain that Japan is the right place to study more about peace, conflict resolution and human security.

In my research activities I was assisted greatly by Osaka University that hosted me. Excellent infrastructure, facilities, as well as international standard learning methods in professional lectures increased my understanding about the subjects within the scope of my study. Furthermore, the classes were engaging because there were also other international students. Many different cultural backgrounds contributed much to broaden my knowledge and widen my world. International guest lectures from various well-known institutions, such as Leiden University in the Netherlands, as well as competent academics at the Faculty of Law, Osaka University enhanced additional knowledge about the most recent issues of human development.

The diversity of society without discrimination that exists and the Japanese attitude that respects it gave me the psychological comfort to enjoy my stay in Japan. Efficient Japanese bureaucracy, Japanese cordiality, orderliness and cultural characteristic absolutely enriched my views about Japan. There must be many more things that I have absorbed from the tremendous experiences in the wonderful journey into Japan. To list one, Japan hypnotized me to dream of social orderliness in Aceh in the post conflict situation. In order to achieve this, it is the Acehnese responsibility to struggle for peace toward 'good governance' and 'democracy' and to create an inventive human resource.

Last but not least, I strongly believe that all of these experiences in Japan finally will contribute to strengthen my personal capability and confidence to comprehensively understand and to participate in multidimensional dispute settlement, which might take place in the future, particularly for my own country.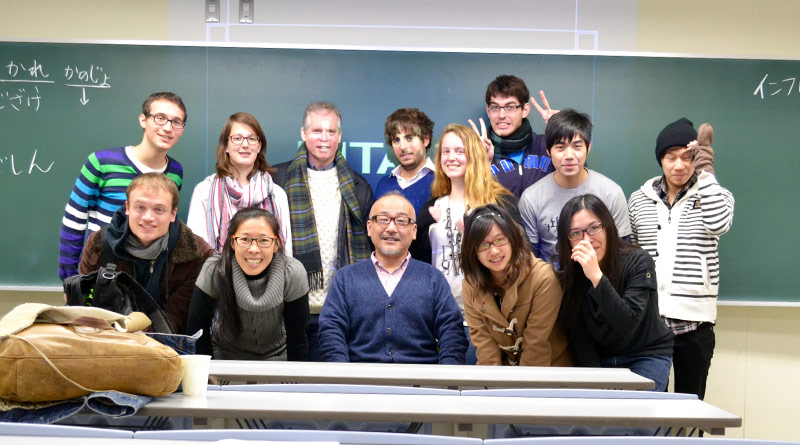 "Different cultural backgrounds contributed much to broaden my knowledge and widen my world"
New Knowledge about Peace and Human Security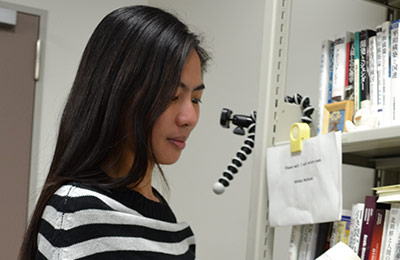 Carla Luna
De La Salle University
@ OSIPP, Osaka University
The notions of peace and human security can be defined in many ways and forms. Inside the walls of academe we are taught of theories and approaches in order to understand the actual process of conflict resolution and peace building. But the PAHSA (Peace and Human Security in Asia) Semester Program at the Osaka School of International Public Policy (OSIPP), Osaka University, did more than that. The program offered the opportunity for students from Southeast Asia to understand the concepts of peace and human security by covering the conventional learning approaches, but there was also a great dynamism and a quest for new approaches in the study of peace and human security.

On the Semester Program, a diverse group of experienced educators and practitioners gave lectures and seminars. Specialists shared their research and personal expertise, and they provided starting points for stimulating discussions and later tutorials. The lectures and seminars used a wide range of learning mediums that enhanced our understanding effectively, and classes were much more interactive than I had previously experienced in Japan. Also the diverse range of students from other Southeast Asian universities was able to share the learning space, and the discussions among them were always lively and with many viewpoints. Never a dull moment, students on the PAHSA program were always engaged with and considering the topics long after lectures had ended. This kind of academic interaction served as a bridge in fostering bilateral and multilateral partnerships, albeit on smaller, personal-scale. But no doubt these partnerships will, in turn, translate into greater action in the future as the participants of the program find the chance to utilize what they have learned into productive and meaningful practice.

On a more personal level, the program served as a medium that allowed me to conduct in-depth research for my own thesis. The extensive collection of learning materials that was available at OSIPP was greatly valued. Similarly, there were opportunities to tap into other learning resources in Japan, such as the National Diet Library in Tokyo, Nichibunken Center for International Japanese Studies in Kyoto, and Yokohama National University. I was also fortunate to have been given the opportunity to volunteer for the Southern African Centre for Collaboration on Peace and Security headed by OSSIP's Associate Professor Virgil Hawkins. The special lectures on Africa, with the collaboration of OSIPP and the Japan Foundation, forged important awareness among students on the issues of the African region.

It is never easy to leave one's country and study for a semester in another. But while trying to settle in Japan, my host family played a crucial part in my cultural immersion. In addition, everyone at OSIPP was most welcoming and supportive. Osaka University is also home to numerous nationalities; particularly Filipino, my countrymen, and they offered some comfort away from home. These students are working professionals and recipients of MEXT (education ministry) scholarships to support their continuing stride to academic excellence. This is a testament to Japan's continued support in the promotion of educational development. Perhaps the same could also be said of the PAHSA program. For today and the future, after studying for a semester on the PAHSA program, students will return to their own countries with renewed vigor and greater understanding of issues about peace and human security.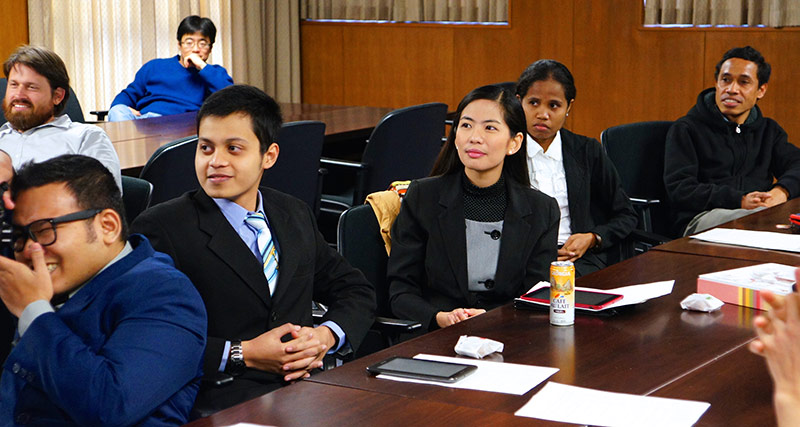 PAHSA students at Osaka University during the end of semester presentations
Healing the Past – Working toward the Future: Creative Approaches in Reconciliation and Peace Building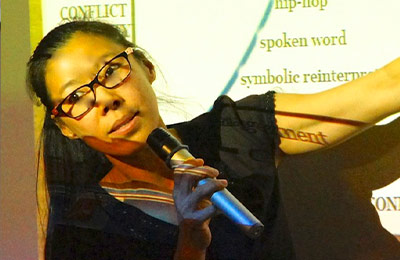 Narumol Thammapruksa
Payap University
@ OSIPP, Osaka University
Art is a powerful tool that can help man interpret the world. It can alter the way people think and act. Art in different forms has been used for centuries to convey experience, feeling, and expression. It has also been a powerful means of storytelling or social commentary in conveying the truth about the world around us. Used in this way, art is known to provoke intense emotion, sometimes positive while other times less so. In the field of peacebuilding, arts can be incorporated in a wide range of efforts to prevent, reduce, and transform violence as well as to create a space where people in conflict can express themselves, heal, recover, and reconcile from aggression in all forms, at all levels of society, and in all stages of conflict. In short, art is able to bring a new perception to the world and how we perceive the human condition.

In assessing the use of art in the peacebuilding arena, some critics might opine that art might be a 'soft' approach to the 'hard' issues that are faced; those of freedom from fear and freedom from want. Yet the arts have a powerful role to play in this forum. As a theater artist and student of peace studies, my main focus is to look at a performance narrative that attempts to move beyond the memories of conflict and war. Theater art, workshops, and other creative approaches, are the main vehicles that can be used. In this approach, the process of healing of the past in order to lead to reconciliation is explored, and through moving towards a future through peace building can then be expressed.
With the offer to conduct in-depth study in this area, I was fortunate to have been part of the Peace and Human Security in Asia (PAHSA) program, and to study for a semester at Osaka School of International Public Policy (OSIPP), Osaka University under the guidance of professor Akihisa Matsuno. OSIPP allowed me to deepen my understanding as I took two peacebuilding courses and participated in many excellent seminars and presentations by international scholars.

Moreover, I was given a chance to participate in the International Peace Research Association (IPRA) conference at Mie University. While there I was honored to meet all three of the co-editors, Cynthia E. Cohen, Roberto Gutiérrez Varea, and Polly O. Walker, of the influential book, Acting Together: Performance and the Creative Transformation of Conflict. This anthology is a collection of peacebuilding performances that took place in the midst of violence and its aftermath, and documents the contribution of theater to justice, reconciliation, and coexistence. At the conference, many researchers presented and discussed their arts-based papers. They offered insights into how their creative work served as a voice of resistance and impetus to peacebuilding in the context of social conflict and state violence.

OSIPP as an academic setting provided a rich and diverse experiences for the students on the program. Apart from the school curriculum, I was encouraged by my advisor to meet and interview other professors in my field and this was very motivating. I was also fortunate to tap into Japan's thriving arts scene and attend several theater performances as part of my research process.
In addition, spending six months in Japan enabled me to practice aikido under several masters both in Tokyo and Osaka. Towards the end of my stay, I was lucky to have the chance to obtain my black belt at the Aikido World Headquarters (Aikikai Hombu Dojo) in Tokyo. This event took place after ten years of training. The discipline of aikido practice not only helped build my physical strength and coordination, but the mental and spiritual aspects of the discipline also stimulated me. I carried out my MA research on Building a Culture of Peace through Aikido in 2010.

Participation in arts, as well as aikido, can bring about psychological and spiritual transformations and each can change the way we think and act. Sometimes personal transformation is fundamental if greater changes are to take place. Seeing things differently is a blessing for untangling seemingly intractable interpersonal issues, and could help mitigate communal, national, and global conflicts. Studying at Osaka University helped me in mapping my theater background to the topic of peace and human security and aided me in discovering new ways to see familiar things.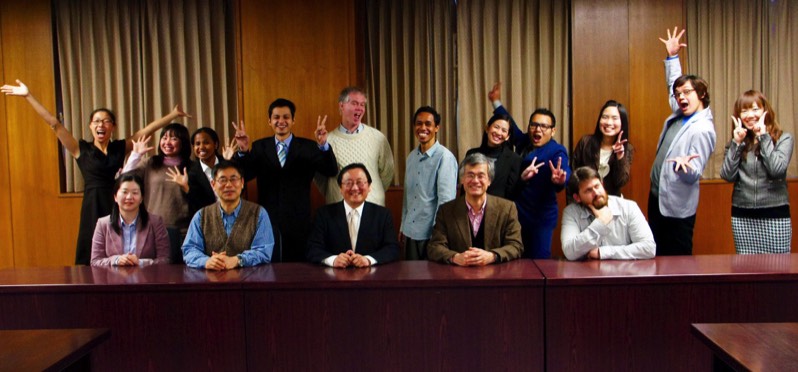 A fun moment when the semester program in Japan came to an end